Discover new levels of cash control, efficiency and profitability with our Trade Solution.
Accounts receivable can be a significant drain on your revenue. WEX Trade Solution can solve your problems and it will save you money and lost productivity.
Debtors are increasingly paying their invoices later than the due date. And on average, only after three follow-up calls or emails from the creditor. That's around 35 minutes of your labour cost, per invoice. The WEX Trade Solution gives you a better way of doing business.
How does it work?
Your customers are issued with their own WEX Trade Solution – to make transactions with your business. The spend limit is provided by WEX to your customer. We pay you – fast – and take on responsibility for collecting the debt from your customer. Please note a small fee is charged to your business to process the transaction.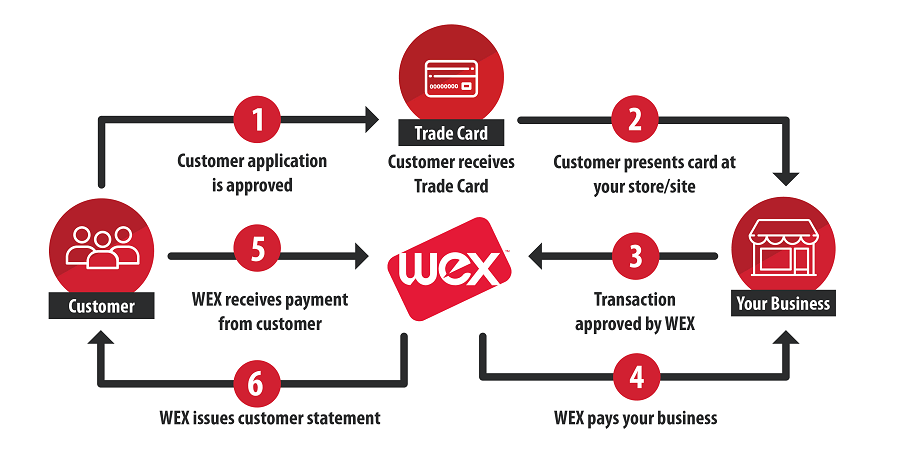 See how simple that is? You make the sale. You get paid. Goodbye to receivables.
What are the benefits of a WEX Trade Solution?
Turn your receivables into real cash – real quick
Remove the pain of late payments and inject cash into your business
Reduce labour costs of the accounts receivable function – no more chasing late payments
Safeguard revenue and keep your customers coming back – your designated WEX Trade Solution can only transact with your business or franchise
Cost effective – no invoice factoring or discounting; and we'll take on your debtors (subject to our assessment criteria), not just the recent ones
Transaction controls for your customers – they can restrict who can use the solution and better manage their costs