WEX EUROPE SERVICES TURNS THREE
01ST DECEMBER 2017
On 1st December, WEX Europe Services celebrated its third anniversary. Since it was founded three years ago, the owner and supplier of the Esso Card™ has evolved significantly after acquiring the assets of ExxonMobil's European commercial fuel card offering.
WEX Europe Services' primary aim is to sell its fuel card and telematics solutions to small, medium and large fleets across a multitude of business sectors, and since its foundation in 2014, the company now manages more than 90,000 fuel card fleets in eight countries across Europe.
Together, its customers in the UK, Italy, Germany, France, Belgium, the Netherlands, Norway and Luxembourg, possess more than one-and-a-half million fuel cards and purchase two billion litres of fuel annually, making WEX Europe Services one of Europe's largest fuel payment card providers.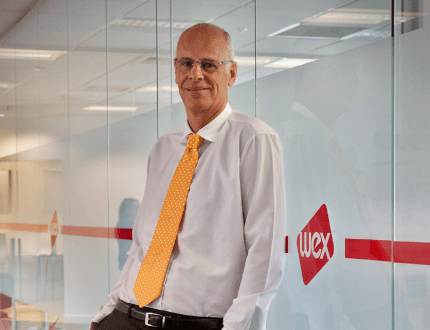 Development
Managing Director, Malcolm Joyce, revealed that the business evolution has been "fascinating to be a part of" over the past three years:
"The business has changed greatly from when we founded the brand three years ago. WEX was a strong brand in the US, but not in Europe, so we've had to work hard to ensure WEX Europe Services has become more well-known across the continent.
"To achieve that, we've built modern headquarters in Crewe, which is home to more than 150 members of staff. We've also opened seven WEX Europe Services offices around Europe that are predominantly made up native telesales teams, which is crucial as they are our main channels of communication. In total, we have more than 100 agents."
Constructing those offices and employing the right calibre of staff was a tough challenge, according to Malcolm, but the hard work has created stability.
"We're continuing to work hard on the Esso Card™ and I am optimistic that our efforts and commitment will allow us to take-on new business as, and when it arises."
Challenges and achievements
At the beginning, the biggest challenge was laying the foundations to work from. Once achieved, the next task was to maintain relationships from the previous regime and forge new ones across all networks. This year alone has demonstrated that ambition:
In the UK, for example, a key milestone was achieved after WEX Europe Services announced that its customers would have access to 40% of UK forecourts following a fuel card acceptance agreement between Esso Petroleum Company, Limited and BP Oil UK Limited.
The deal meant holders of an Esso Card™ could pay for fuel in more than 3,300 participating BP, Esso and Shell service stations.
In France, meanwhile, WEX Europe Services became a reseller of the E.Leclerc fuel card. The arrangement with the retail giant meant the company's network in the country effectively doubled to more than 1,200 sites.
"The examples in the UK and France are just two illustrations of how WEX Europe Services is making a positive impact in markets that are evolving and demonstrate our ability to grow the network and ensure we stay ahead of the curve with products that reflect the needs of our customers. This kind of development naturally further increases the credibility of the Esso Card™ proposition."
Another way of achieving that goal is adding more products to its customer offering, like WEX Telematics, a fleet management tool that allows businesses to manage their staff and control costs more efficiently.
Spreading these messages is crucial, and WEX Europe Services has invested significantly in the way it delivers them; for example, it has exhibited at various trade shows across key markets in Europe. From the race circuits of the Nürburgring and TT Assen Circuit, to major industrial cities, like Munich and Frankfurt, WEX Europe Services has been determined to demonstrate it is the partner of choice for businesses' fuel card needs.
What about the next three years?
As WEX Europe Services celebrates its third birthday, Malcolm was unequivocal about what WEX Europe Services wants to achieve over the course of the next three years: "The goal is for the Esso Card™ to go from strength-to-strength.
"As the company matures, so will the team behind it, which means there will be lots of opportunities for them to win a greater market share for WEX Europe Services. Perhaps, that will allow us to consider the possibility of acquiring further card portfolios.
"We have the infrastructure in-place to achieve that goal, so it's up to us to deliver on our current products and then look at the next move forwards."