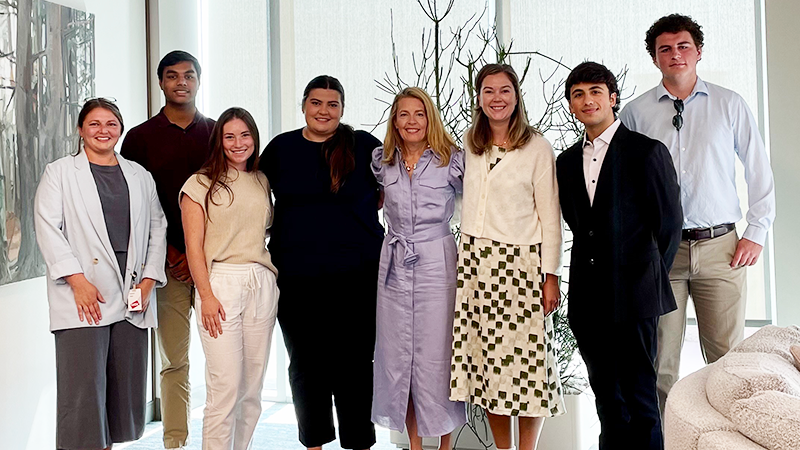 This summer, WEX hosted over 60 interns across its various business units, continuing a strong tradition of fostering and supporting early career talent. In fact, Yello and WayUp recently recognized the WEX Summer Internship as one of the top-100 internship programs in the US. WEX was selected for this prestigious list in one of the most competitive years yet, with nearly 1,000 companies nominated for the top-100 recognition. The selection process is based on 30% public votes and 70% judging by a panel of industry experts. The selections are not biased by company name or prestige since submissions are anonymized prior to reaching the panel. WEX has been recognized on the top-100 internship programs list for four of the last five years.
What is the WEX Summer Internship?
WEX offers a 12-week summer internship with competitive pay and hands-on experience in fields like marketing, finance, technology, and corporate legal work. WEX interns provide immediate value to the company and gain relevant experience while working alongside industry professionals.
Throughout the summer, WEX interns have the opportunity to build meaningful relationships with their team, engage in a flexible curriculum including weekly events, and hear from a series of leadership speakers who share some of their knowledge and expertise about what it means to be in the workforce. WEX challenges its interns, providing them with the opportunity to make a real impact within the business, while also allowing them to enjoy the WEX culture and the many benefits that the program offers. WEX looks to convert its top intern talent for full-time roles and offers extended internship opportunities during the academic year.
"My summer internship at WEX has been absolutely fantastic. I've learned skills that will help me throughout the rest of my professional career. The culture here is great and I've worked closely with a great team and I've built countless professional relationships that will serve me in all aspects moving forward. I would highly recommend a summer internship at WEX." — Seth Gardner, sales intern, Summer 2023
The internship is hybrid: the majority of WEX interns are located in different states across the US and work from home. Local WEX interns are welcome to work from the Portland, ME, headquarters. Due to the hybrid configuration, WEX has a fully-remote onboarding process and a virtual orientation. In addition, WEX's Information Technology experts ship all necessary hardware such as laptops, monitors, and audio-visual equipment to the interns in advance of the program's start-date. As part of WEX's Intern Program Orientation, summer interns were welcomed on their first day by Melanie Tinto, chief human resources officer (CHRO), and Laura Shen, chief diversity and inclusion officer. In addition, Patricia Andrews, marketing systems analyst at WEX, provided the interns with an overview of WEX's business solutions and the customers that they serve.
"I consider myself extremely fortunate to have had the opportunity to serve as a WEX intern this summer. Collaborating with a team of highly skilled professionals has been both enlightening and enriching. The inclusive and supportive environment fostered by all members of the organization has played a significant role in making me feel not only welcomed but also valued." — Claire Hanley, market efficiency intern, Summer 2023
WEX keeps its interns engaged
WEX helps interns with their personal and professional development by providing them with the necessary resources they need to take chances, demonstrate initiative, and build value for themselves and the company. Throughout the summer, WEX hosted an abundance of engaging activities to build community within the intern cohort. Some of these events included Kahoot trivia, painting with Muse Paintbar, and an early career panel where former WEX interns and other professionals shared insight into their career journeys and how to address future development opportunities! The interns also had the opportunity to participate in the "WEXtern Journal," an intern-run newsletter that highlights recent intern projects and events. The newsletter team met weekly, collaborating with one another to keep the entire WEX community updated on the latest intern news.
"Interning at WEX has given me the opportunity to meet so many incredible people. I had the chance to participate in WEX's annual hackathon, where I teamed up with other brilliant interns to design a creative project." — Rohan Duvvuru, vendor management analyst intern, Summer 2023
Although WEX has no shortage of virtual events, it also encourages its interns to enjoy the summer weather and change up their work environment every so often. For this reason, WEX partners with Maine Career Catalyst, a Maine-based workforce development initiative. Through this partnership, local WEX interns had the opportunity to participate in community engagement webinars with neighboring businesses and go bowling, kayaking, and sailing, among other outdoor excursions. In addition, WEX hosts a monthly Rooftop Ale Watch event that invites all WEXers to the rooftop patio of the Portland headquarters. WEXers can catch up with colleagues, enjoy some refreshments, and soak up the scenic waterside view.
WEX also hosted a weekly speaker series that invited interns for hour-long discussions with senior WEX leaders. The interns asked thoughtful questions, gained insight into various career paths, and learned valuable advice. These discussions represented how WEX fosters an inclusive environment for its early career professionals, featuring countless leaders that continuously devote time and effort to mentorship:
Melissa Smith, chief operating officer (CEO) and chair, WEX.
Jay Dearborn, chief strategy officer (CSO), WEX.
Karen Stroup, chief digital officer (CDO), WEX.
Christina Cheely, director, Professional Services Consulting.
Eric Tracy, senior vice president, Global Risk Operations.
Peter Ekowicki, senior director, Fraud Analytics and Strategy.
Sarah Troxtell, lead, Digital Center of Excellence.
Arpit Gupta; head of product, global fleet, and mobility; Product Development.
Lori Harner, vice president, Product Marketing.
Naveed Assem, senior vice president, Data and Analytics.
"Throughout my summer at WEX the most important thing that I learned is that no question is a stupid question! I have always been nervous to ask for help when I don't know how to do something, but everyone here at WEX goes above and beyond to make you feel comfortable in what you are doing and makes sure no questions go unanswered!" — Alexis Sullivan, accounting intern, Summer 2023
Celebrating National Intern Day
National Intern Day was created by WayUp in 2017 and has since been celebrated annually on the last Thursday of July. This holiday is dedicated to recognizing and celebrating the future leaders of the world. WEX commemorates National Intern Day by hosting extra events throughout the week of the holiday, internally referring to it as National Intern Week. WEX hosted many enriching events during this year's celebrations:
Tuesday: Morgan Bouchard, WEX's corporate functions recruiter and former WEX intern herself, hosted a career workshop for the interns. In the interactive session, Morgan and the interns analyzed a sample resume and discussed the STARR interview technique. Afterward, the interns were invited to set up one-on-one sessions with other recruiters at WEX. In these personalized sessions, the interns were able to work on their resumes, ask career questions, and practice their interview skills.
Wednesday: The interns enjoyed a game of Coworker Feud, hosted virtually by Confetti. There were two teams, known as Pro-tuna and The WEXperts. The game included a main round and a lightning round, during which the interns competed against one another by quickly answering survey questions. The team with the highest scoring answer would win the round, and ultimately, Pro-tuna won the event.
Thursday: The interns played Virtual Vacation, which involved navigating through a map of different cities and using contextual clues to identify the given location. Throughout the game, the interns traveled all the way from Cambodia to Greece, working together and examining local landmarks to pinpoint the correct location. The game was recommended by a fellow intern, highlighting how WEX uses intern feedback to personalize summer programming.
Friday: Melissa Smith, WEX's CEO and chair, hosted the interns for a speaker series in her office. This event served as an opportunity for the interns to learn what it takes to lead a global company and celebrate their early professional careers. The interns asked questions regarding WEX's vision and growth trajectory, Melissa's professional and personal insights, and what responsibilities the CEO role entails.
Midway through the summer, the WEX interns received a delightful surprise in their mailboxes. WEX's Global Talent Acquisition team created thoughtful swag-packs for each intern that included a WEX-branded backpack, water bottle, journal, pens, stickers, and phone accessories. Small tokens of appreciation like these are just one way that WEX makes its interns feel a sense of belonging.
After arriving at the WEX headquarters in Portland, most of the local WEX interns begin their day by heading downstairs to the Navis Cafe for a free coffee. WEX interns usually meet with their managers in the mornings, using the time to discuss ongoing projects, ask questions, and provide updates on their work. Afterward, the WEX interns work on their various projects, oftentimes collaborating and meeting with other colleagues.
One of the best parts about working at WEX is the flexibility that employees have. WEX interns coordinate with their managers to find a mutually optimal schedule, ensuring that time zone differences do not serve as a barrier. The WEX headquarters features an open-floor layout that allows interns to work at any available desk. WEX interns have the ability to pick their workspace on any given day, whether they prefer a window seat, a focus room, or a shared booth.
For lunch, WEX interns sometimes grab a bite with their team members or a networking connection. There are an abundance of restaurants to choose from, as the WEX headquarters are located in Portland's historic Old Port district. Later in the day, as the floor-to-ceiling window blinds at the WEX headquarters gently rise to let in the afternoon sunshine, WEX interns continue their diligent work. Oftentimes, WEX interns attend several meetings, participating alongside their team members in production calls and presentations. Now that is an enjoyable and productive day.
If you're interested in learning more about the WEX internship program, and in working for a dynamic and nimble global organization, please visit WEX's career page.
WEX is a leading, global fintech solutions provider, simplifying payments and back-end business processes in the fleet management, benefits management, and corporate payments areas. WEX values diversity and equity and is an equal opportunity employer. Search jobs on our careers site.
---
---