MACMILLAN CHARITY BAKE-OFF RAISES RECORD-BREAKING TOTAL
23RD OCTOBER 2018
Businesses, local community groups and friends and family gathered together on Friday 28th September for The World's Biggest Coffee Morning, UK cancer charity Macmillan's biggest fundraising event – and the staff and WEX Europe Services in Crewe were no exception.
If you're unfamiliar with the charity (or event), Macmillan Cancer Support is one of the largest charities in the UK and provides specialist health care, information and financial support to people affected by cancer. On the last Friday of September every year, people all over the UK host their own Coffee Mornings and donations on the day are made to Macmillan. WEX Europe Services' chosen charity for 2018 was Cancer Research, however, the whole UK office love an opportunity to raise money for a good cause almost as much as they love baking (and eating) cake, and so participated in the event with a 'Great British Bake-Off' style competition.
Bakers entered their home-made creations anonymously, accompanied by a label describing it, with the aim to win a range of Love2Shop vouchers (for first, second and third place). The winner also received the coveted 'WES Bake-Off Winner 2018' apron. Some of the creations included a fresh cream Cadbury's chocolate cake, raspberry and coconut bake squares, Snickers brownies, and much more. But the winners were…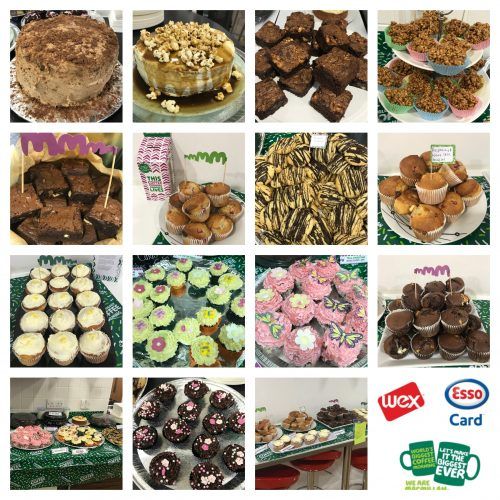 In first place… Steph Baron-White with " Chocoholic Overload" (triple chocolate muffins, raspberry and white chocolate muffins and lemon drizzle)! Well done!
Not too far behind in second place was Caitlin Guy-Holt with White Chocolate Chip Brownies.
And Sam Brooks in third place with a (secretly vegan) Sticky Toffee Popcorn Cake.
Overall, the event raised over £200 for the charity – thanks to the generosity of our staff, both in the money they gave in donations, and spent on ingredients, as well as the spare time they gave up to make the different treats.
Our next charity event is the annual Autumn Crewe general knowledge quiz, where teams of six or more members of staff are competing against each other in a battle of wits to win a range of prizes, including the winner's trophy. Each individual donates £5 to Cancer Research to participate, and the company fund a two course meal and selection of drinks while the quiz is taking place.