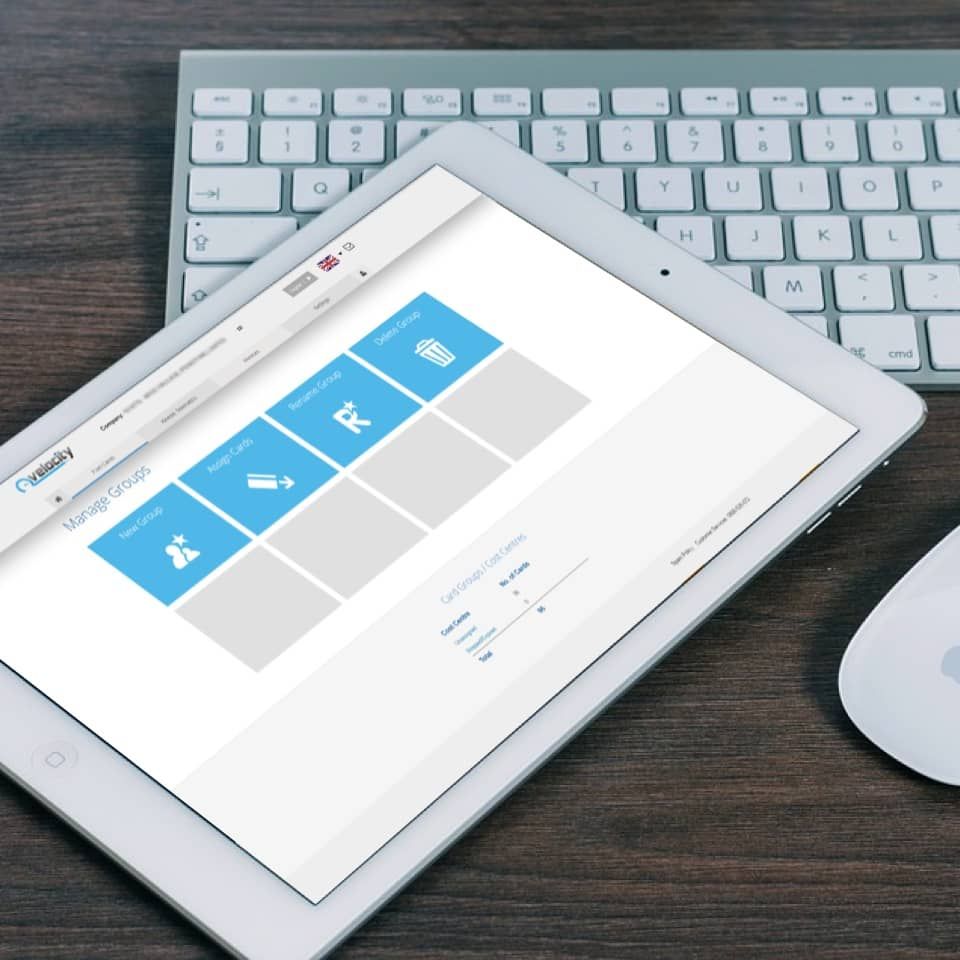 Advanced Fleet Management
Choosing a fuel card from WEX means you benefit from state-of-the-art tools designed to help your business and your drivers operate more efficiently.
Velocity, a cutting edge online account management tool, puts you in total control of your fuel cards, your fleet and your business. Available with most of our fuel cards, it simplifies your month-end accounting and allows you to manage multiple fuel cards at the same time.
With both an online portal and smartphone app, it saves you valuable time by putting the information at your fingertips enabling you to:

Easily manage multiple fuel cards from one place.

Monitor all spending and trace each transaction to each card.

Identify drivers who could refuel at cheaper service stations.
Our fuel card monitoring system also provides

other insights, such as helping you: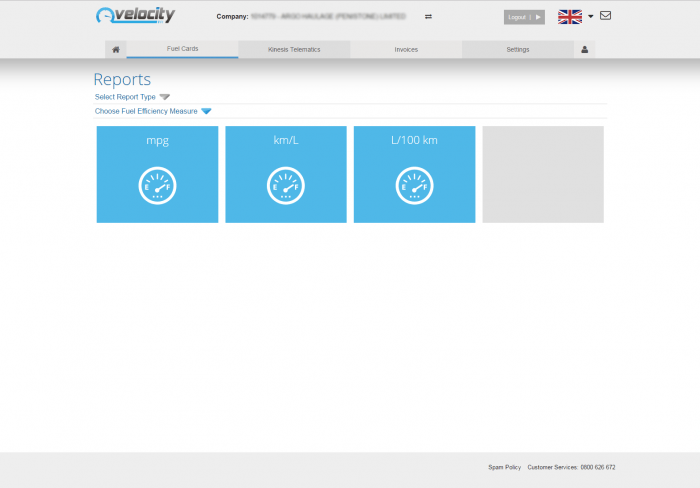 Reduce maintenance costs
If one of your vehicles consistently needs more fuel than the others, it could be a maintenance issue – and spotting it now could save your business significant expense. Or it could be an inefficient driving style, which is easy to fix with driver training courses that are proven to have significant impacts on fuel consumption.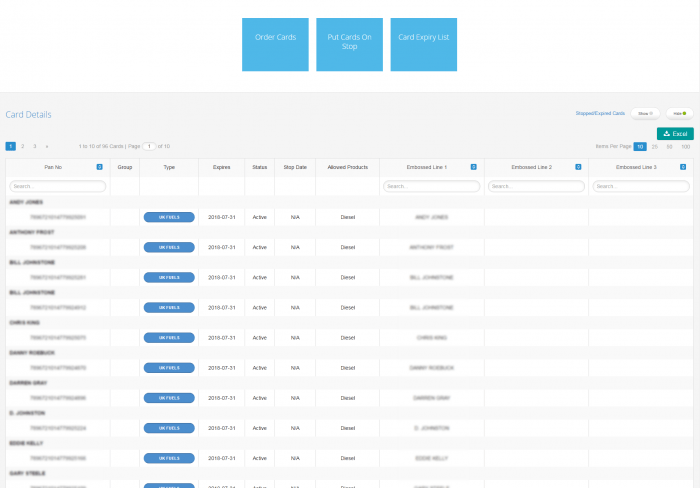 Manage cards
Increase transparency and save time by managing your fuel cards through one single portal. From viewing a list of all your cards, through to ordering new cards and putting existing cards on hold, you can substantially reduce the administrative burden by managing your account online through the self-service platform.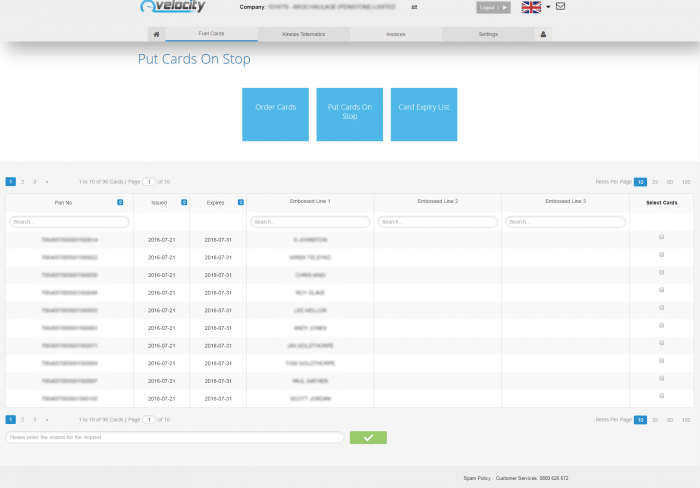 Strengthen security
For drivers covering many miles and locations, fuel cards are far safer than cash and easier to replace. Using fuel cards increases driver safety by reducing the need to carry significant sums of cash in their vehicle. And if a fuel card is lost or stolen, Velocity allows you to stop the card online at any time, day or night, significantly reducing the risk of fuel theft.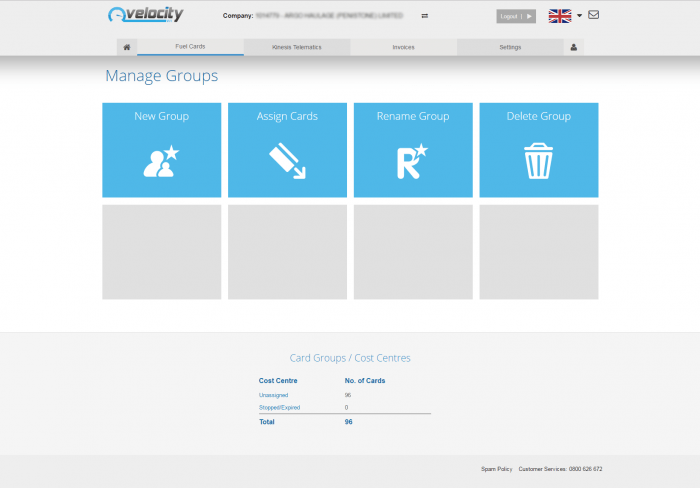 Manage groups
Create separate groups for your card users to help you monitor fuel spend by department or region and plan your resources more efficiently. As your fleet grows, it's quick and easy to change, rearrange or extend your group lists.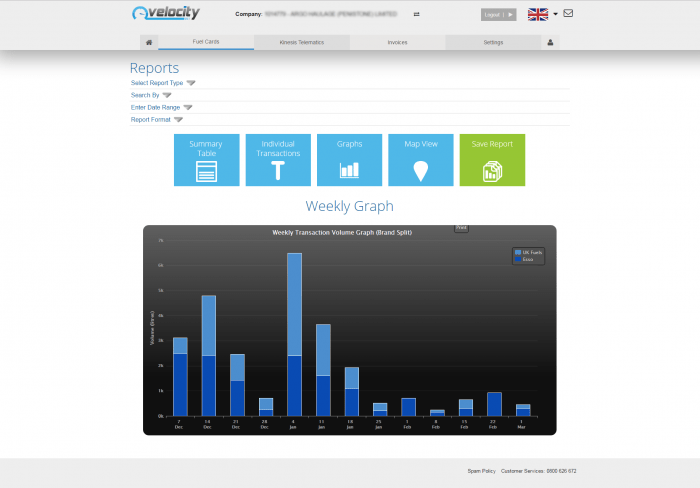 Enhance customer service
Access comprehensive, real-time reporting that enables you to analyse fuel consumption patterns, identify the most efficient routes and get to your customers quicker. Reports allow you to monitor fuel use by card, vehicle, driver or group, and assess fuel spending and usage for any date range you want.
If you need more detail, you can tailor your reports to match your business's key performance indicators. Creating custom reports is simple, and you can quickly save frequently-used reports.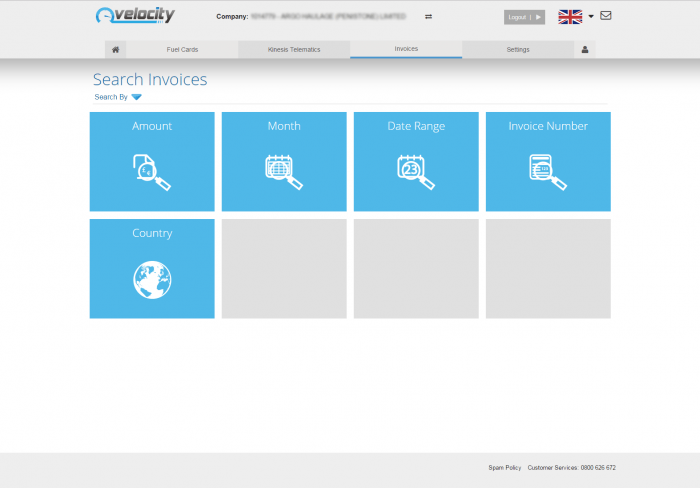 Manage invoices
No more messy, disorganised piles of paperwork. You can access and manage all your invoices in one convenient place, reducing the time and cost of administration and freeing up your time to focus on running your business.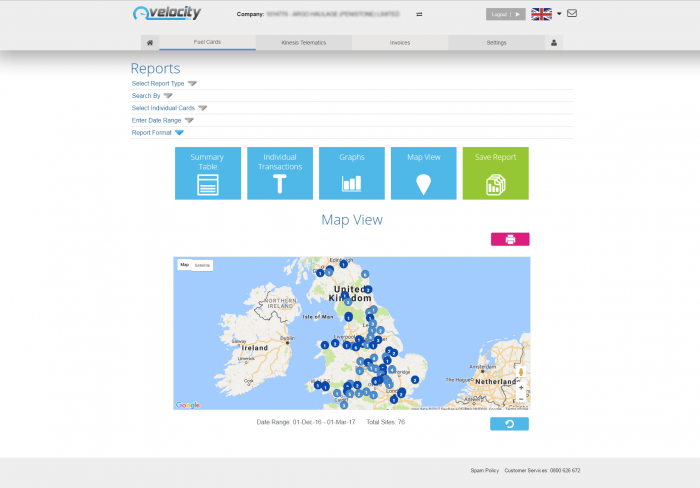 View your transactions

on a map
Calculate mileage expenses more efficiently and simplify your tax submissions by easily distinguishing between personal and business travel on a single map. Identify the routes your fleet has travelled and get a visual understanding of where your fuel spending takes place.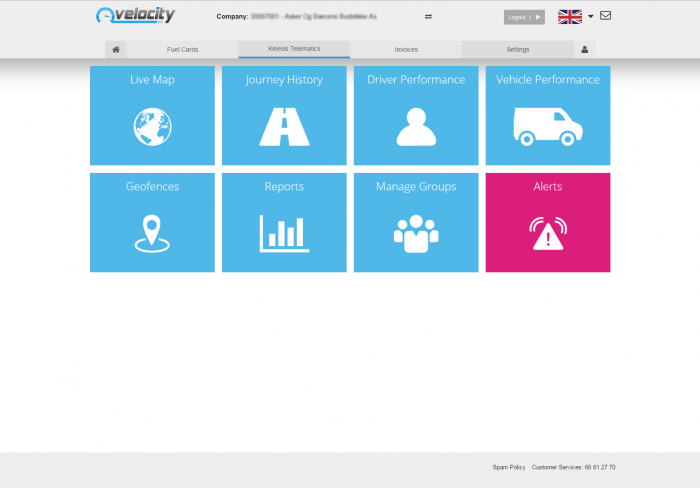 Link with Telematics
With WEX Telematics, we are one of the few fuel card providers https://www.wexeuropeservices.com/en-gb/telematics/in Europe to offer fuel card management and telematics together, giving you the chance to improve efficiency and drive down costs at every opportunity.
By linking data from both systems, you benefit from an exceptional understanding of how your fleet operates and can quickly spot any potential issues to address.
The combination of GPS technology and fuel card data means you can simplify your finances and strengthen performance, whatever the size of your vehicle fleet. It helps you build trust and credibility with your customers by providing with accurate updates on their deliveries. And you can monitor the safety and security of your drivers by checking that appointments are being met on time and they are complying with the EU Driving Hours Directive.