WEX EUROPE SERVICES LAUNCHES NEW ESSO CARD™ PREPAY FUEL CARD IN ITALY
19TH JULY 2019
Leading fuel card provider WEX Europe Services, owner of the ESSO CARD™ portfolio, today announces the launch of its new prepay fuel card – ESSO CARD™ Prepay – exclusively available to Italian businesses for use in Italy. Allowing customers to pre-load the card with funds instead of using a credit line, ESSO CARD™ Prepay has all the benefits of a fuel card without requiring a credit check. This includes competitive prices on Esso Supreme fuels purchased at site and compliant electronic invoices, that allow fleet managers to reduce administrative burden and easily take control of their business' fuel spend.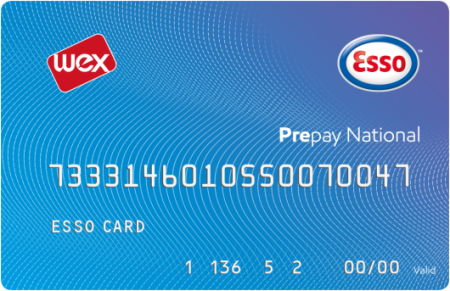 Managing fuel costs
Developed with Italian fleets in mind following the introduction of the Budget Law earlier this year, ESSO CARD™ Prepay gives all businesses the opportunity to reap the benefits of having a fuel card. With a pre-paid card allowing exact funds to be allocated, the risk of overspending and potential unmanageable debt is avoided. ESSO CARD™ Prepay is secure with a custom or assigned pin, while top-up is quick and simple – users can make a bank transfer or card payment, with all funds available in just four business hours of cash receipt. With ESSO CARD™, fleets have the added bonus of reducing administration time from processing numerous fuel receipts or reviewing credit card statements. In addition, ESSO CARD™ helps protect fleets against fraud thanks to its dedicated monitoring team.
Ensuring compliance
ESSO CARD™ Prepay is compliant with the European Directive 2014/55/​​EU, which states that all businesses must show an electronic trail for payments using a credit, debit or pre-paid card. With ESSO CARD™ Prepay, a fully compliant invoice is synchronised to the Revenue Agency portal, ensuring that fleet managers automatically comply with the necessary regulatory requirements.
"We're delighted to launch the ESSO CARD™ Prepay fuel card," says Luca Menicocci, Head of Sales – Italy at WEX Europe Services. "With the introduction of the Budget Law, fuel cards became crucial for all businesses across the country, so we needed to develop a solution that met the needs of our customers no matter the size of their business or credit history. The introduction of ESSO CARD™ Prepay is a step forward in improving fleet efficiency across Italy, and by helping to save both time and money in the office, we are confident we can help save time and money on the road too."
Fleet management made easy
ESSO CARD™ Prepay customers can use the fuel card at more than 2,200 filling sites across Italy and can also receive access to additional fleet management services from WEX Europe Services. For example, businesses can easily find fuel stations that accept ESSO CARD™ Prepay with e-route, a fuel station finder tool, enabling fleets to improve both route and fuel efficiency.
To discover the extensive benefits of ESSO CARD™ Prepay, or WEX Europe Services' wider service offering, please visit: wexinc.com/it-it/
About WEX Europe Services:
WEX Europe Services is a fuel card provider, offering tailored service solutions to help improve fleet performance and efficiency. Since the acquisition of the Esso Card™ portfolio, drivers have access to more than 12,000 fuel stations throughout Europe. In addition to fuel cards, WEX Europe Services also offers state-of-the-art fleet management tools, including WEX Telematics, access to Velocity online account management, e-route and toll services.
Founded in 2014 and with offices across Europe, WEX Europe Services is a joint venture between US-based, WEX Inc and UK-based, Radius Payment Solutions. Now, with over 1.4 million fuel card users, and a growing network across the UK, Italy, Germany, France, Belgium, the Netherlands, Norway and Luxembourg, WEX Europe Services offer greater convenience to both fleet managers and drivers.
For more information, visit wexinc.com/en-gb/ or essocard.com.