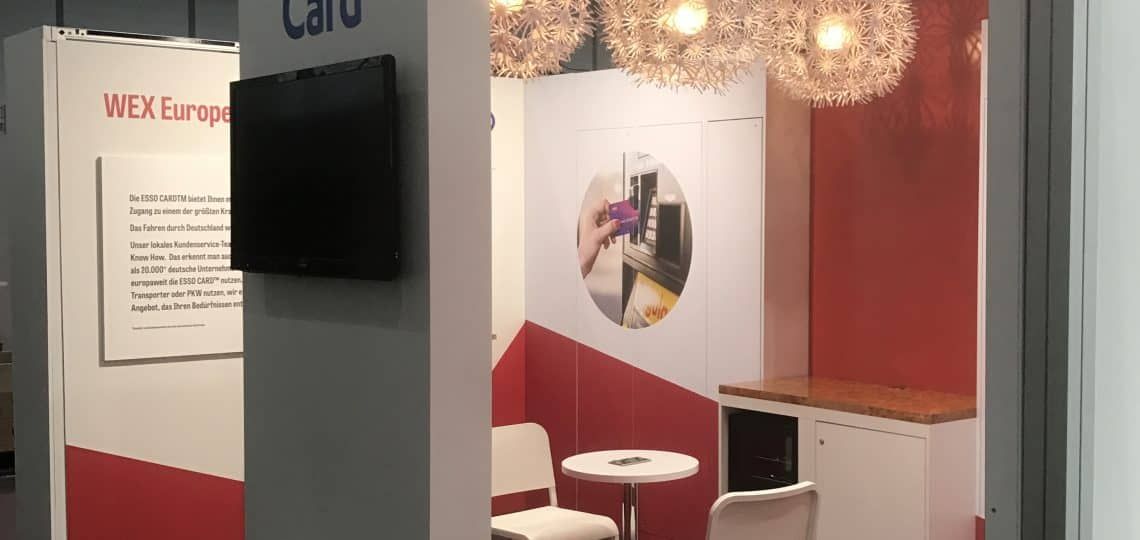 WEX EUROPE SERVICES WELCOMES VISITORS TO FLOTTE!
23RD MAY 2017
Visitors to Flotte! Der Branchentreff 2017 can expect a professional and friendly welcome from WEX Europe Services' team of experts, with more than 50 years' experience between them.
Held at Messe Düsseldorf, between the 22nd and 23rd March 2017, the exhibition – following its debut in Cologne in 2016 – is designed to present innovations for fleet and leasing management companies.
The audience is perfect for WEX Europe Services, the owner of the ESSO CARD™ fuel card portfolio, to inform and educate visitors of the comprehensive role and benefits that the card offers to its expanding pan-European network.
In Germany, drivers possessing an ESSO CARD™ fuel card can fill-up from one of the largest fuel networks in the country, with acceptance at over 2,800* sites. They can be assured of competitive fuel prices and can also use their card to pay for other services, like car washing and breakdown recovery.
Commercial and Marketing Director, Pete Dore, said: "We are hugely looking forward to exhibiting at the forthcoming Flotte! Der Branchentreff exhibition – it is a great opportunity to present our products to buyers in the road transport and logistics field."
Additionally, WEX Europe Services will be showcasing its telematics system. WEX Telematics is a comprehensive, data tracking service that has transformed the way in which fleets and businesses manage their vehicle and fuel card data.
Vehicles and drivers' journey and performances during working hours can be analysed in real-time. WEX Telematics can also be used to report on fuel usage and efficiency can also be recorded. WEX Telematics provides an essential link between WEX Telematics and the ESSO CARD™ fuel card, which links vehicle data directly to fuel card transactions.
Other features and benefits include a live map, journey history and custom alerts – speeding, for example – and are all available on a competitive, rolling contract with no fixed agreement.
A team of experts will be attending the show, with more than five decades of experience between them, and they will be delighted to welcome visitors onto their engaging stand and illustrate what WEX Europe Services can offer to fleet businesses.