REDUCE YOUR CARBON FOOTPRINT WITH ECO MILES
20TH DECEMBER 2019
More and more pressure is being put on companies to improve their 'sustainability' and reduce their impact on the environment. Customers are more likely to support a company if it is taking clear strides to be environmentally responsible. Therefore, fleet managers are looking at ways to make a fleet more eco-friendly. At WEX Europe Services, we are passionate about providing our customers with a way of reducing their carbon footprint. As a result, we created Eco Miles, which is a service provided by WEX Europe Services, working in partnership with WeForest.
WeForest are an environmental conservation group which empowers communities to sustainably advance and implement innovative and lasting solutions to restore forest landscapes. Their work not only helps reduce the amount of carbon in the atmosphere through the planting and growth of trees, but also works towards improving local biodiversity, drought prevention and economic deprivation. It is for these reasons that we at WEX Europe Services are delighted to be working with WeForest to pass the opportunity to invest in their projects onto our customers.
Eco Miles helps make a fleet more eco-friendly
For WEX Europe Services' customers, supporting WeForest's projects is easy thanks to Eco Miles.
We know that for our customers, vehicles are vital to the operation of their businesses and carbon emissions are often an unavoidable consequence of this. Supporting our Eco Miles project is a simple yet effective way to help offset these emissions. Esso Card™ holders can opt-in to providing as little as £1.50 a month per fuel card which will then go to help support WeForest's environmental conservation efforts.
Eco Miles provides an effortless way to turn carbon dioxide emissions into new woodlands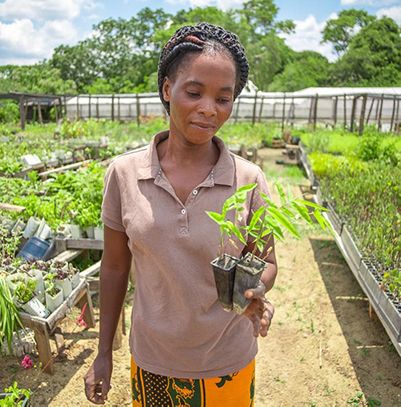 This £1.50 donation will result in one tree being planted. If you choose to, you can donate more than £1.50 a month per fuel card and contribute even more to this great cause. Trees are a fantastic way of drawing carbon dioxide from the atmosphere and therefore offer the perfect method of offsetting a company's carbon footprint – particularly a company that requires the use of motor vehicles.
How it works
1 tree per card, per month = £1.50 per card, per month
this gets added to your fuel invoice, making payments simple
WeForest plant trees on your behalf
your donation supports re-forestation projects all over the world
You receive an annual digital certificate
with the number of trees your business has planted and the CO2 that this offsets
Help reduce your business' carbon footprint
in an easy and cost-effective way, and show your customers that you care about our environment!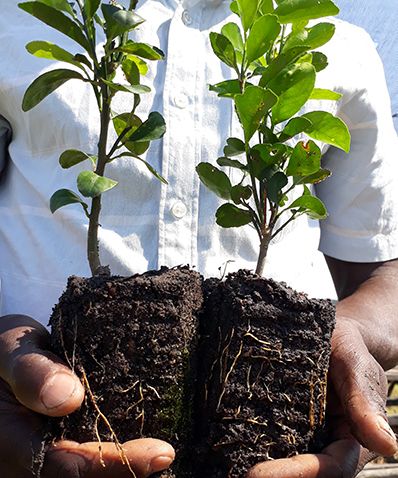 Why choose Eco Miles?
By making a monthly donation through Eco Miles, your company sponsors the plantation of trees in Zambia.  This support is a great way to improve your corporate social responsibility and prove to your customers that you are a socially responsible organisation that is committed to reducing your carbon footprint. As an Eco Miles supporter, you will receive a digital certificate which you can proudly display on your website to highlight your ongoing environmental efforts. As well as this, you will also receive an annual certificate which states the number of trees your company has helped to plant as well as the amount of carbon which this has removed from the atmosphere. This information gives Eco Miles supporters the opportunity to talk to their employees and customers about the actions they are taking and the positive impact these are having on the environment and communities around the world.
The Eco Miles project
The money donated by Esso Card™ customers helps hundreds of small-scale farmers in the Luanshya district of the Zambian Copperbelt. It helps provide them with the training and tools required to plant and protect local forests. Not only will the planting of these new woodlands help to reduce the level of CO2 in the atmosphere, they'll also restore soils, help fight desertification, provide new habitats for wildlife and provide jobs which could help lift entire communities out of poverty.
Our customers have already contributed to more than 3,100,000 trees being planted in WeForest projects
Can we count on your support?
Eco Miles offers your business a simple method to reduce your business' impact on the environment. Join the other Esso Card™ customers who are contributing to reforestation efforts across the world and providing opportunities to people in impoverished communities. If you are an Esso Card™ customer and would like to sign up for Eco Miles, please fill out this form.