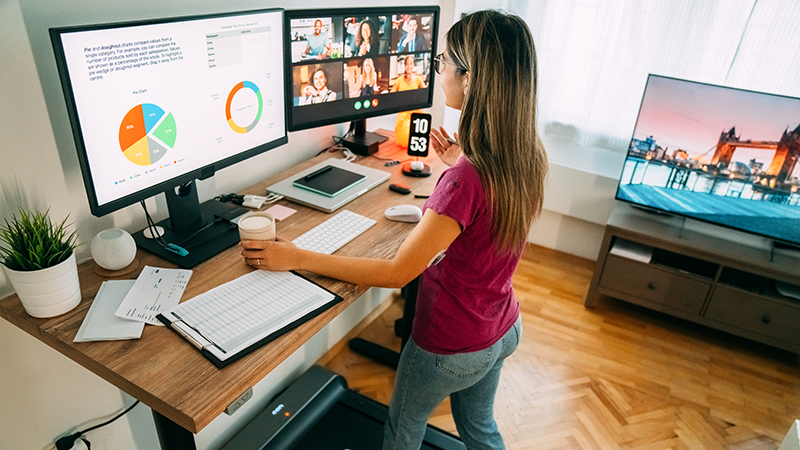 by Scott Duane
The pandemic created challenges and opportunities for businesses and individuals. It tested our working environments as we continued to work during extended lockdowns, and led to remote ways of working becoming a necessity. The workplace, as we know it, has changed - and one of the more interesting trends to stay beyond the pandemic is having the freedom to work from anywhere (WFA). Work from home has continued, too – but working from anywhere is rising in popularity with global companies like Airbnb implementing WFA-friendly policies for their staff.
The Harvard Business Review (HBR) did a recent study on WFA, highlighting that it offers notable benefits to individuals and companies. Organizations have the option to reduce or eliminate real estate cost, take advantage of global talent, offer geographic flexibility to employees and decrease commuting times. Airbnb brought out a new policy in April last year, allowing employees to live and work from anywhere, partnering with destinations to help attract remote workers. WFA also gives individuals the option to travel whilst working, encouraging a better work life balance.
But, with all relatively unknown practices – there are both opportunities and concerns. WFA has the potential to affect communication skills, such as brainstorming and problem-solving, knowledge sharing, camaraderie, and mentoring. These basic skills are necessities for development, especially for junior staff starting out in the workforce. Distributed ways of working also lead to potential data security vulnerabilities, and there are regulatory issues to consider. For example, some countries allow people to work remotely on a tourist visa, but others do not - so it's important that HR teams and business leaders check what the rules are in countries employees may be traveling to. According to HBR, countries that offer a form of digital nomad visas include Australia, Czech Republic, UAE, Estonia, Germany, Thailand, Indonesia, Italy, Spain, and Brazil, among many others. These visas typically require proof of income and remote employment, travel insurance, and intent to depart.
Working from anywhere isn't suitable for all industries
Consulting group McKinsey & Company commissioned research into the analysis of 2,000 tasks, 800 jobs, and nine countries. Their overall analysis found that the potential for remote work is significantly concentrated among highly skilled, highly educated workers in a handful of industries, occupations, and geographies. Finance and insurance have the highest potential due to the nature of their role and the ability for activities to be executed remotely and without loss of productivity. Management, business services, and information technology have the next highest potential, all with more than 50% of employee time spent on activities that could effectively be done remotely. These sectors are characterized by a majority of workers with university degrees or higher. Therefore, it is important for companies to carefully consider the nature of their industry and the ability for work to be done remotely before implementing any WFA or WFH initiatives. (McKinsey &Company, November 23, 2020, Section 1, Exhibit 2)
Processes are vital for a work from home set-up
Getting processes right is key. Since COVID and the rise in distributed ways of working, multi-currency digital payments have become ever more important. The shift to more distributed ways of working has led to both suppliers and buyers being forced to speed up the digital transformation of their payment systems. This was highlighted in a 2020 Mastercard survey, which showed that 82% of small businesses had implemented a change in the way they receive and send payments, and 67% said those changes were caused by the COVID-19 pandemic. Virtual cards, which dramatically simplify supplier payment processes, are a good place to start. WEX's virtual payments solution, for example, allows organizations to pay suppliers globally in over 150 currencies, saving up to 3% per transaction by avoiding unexpected mark ups and fees. The same applies to paying international staff. Technologies like borderless payments simplify the process of paying wages to overseas employees.
While the pandemic presented new challenges in work environments, it also brought      opportunity. The WFA model may not be suited for all employees or companies, but it's proving to have its benefits. Organizations can reduce costs, be exposed to global talent, and promote a better work-life balance. With positives, however, come concerns and considerations. The WFA model can have a detrimental effect on communication skills, such as brainstorming and problem-solving – and it's important that businesses check the rules and regulations with regards to visas when staff decide to work remotely. Getting processes right is also paramount, and there are technologies available that make distributed ways of working seamless that companies can adopt today.
To learn more about WEX, a dynamic and nimble global organization, please visit our About WEX page.
---
---