WEX government fleet cards give you powerful tools to increase security, streamline processes, and help fleets be safer and more productive.
With advanced analytics, government tax exemptions and reporting, and 24/7 customer support, we'll help you cut costs and improve fleet operations.
"Our city assigns cards to vehicles, so it's been great to be able to manage our profiles online, add drivers, and order new cards. I can go onto the WEXOnline website and view my whole account… We can run reports by department, making it easier to manage our budget."

Betty Stackley
City Clerk, City of Pevely Missouri
The Right Benefits for Your Fleet
If your state has a contract with WEX, the RFP process has already been done. You can sign up your organization for a fleet card today. For states without existing contracts, the Sourcewell Fleet Card (formerly NJPA Fleet Card) offers the same great benefits.
WEX state contracts:
Why Choose WEX?
Purchase Management
WEX government fleet cards can be limited to "fuel purchase only," as well as customized by dollar amount, time of day, day of week, location, and more. You can also receive email alerts based on specific spending behaviors, like incorrect fuel grade, off-hour purchases, and more.
Detailed Data Availability
Monitor important point-of-sale info for your fleet. Details captured automatically for every purchase include driver and odometer reading, for security and transparency. This level of detail can help you manage the activity and expenses of every vehicle and driver in your fleet.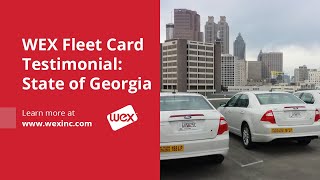 Optimize Tax Exemption & Reporting
To help public sector customers leverage their tax-exempt status, WEX offers comprehensive tax exemption, recovery and reporting—designed to meet the needs of state, local and federal government fleets.
24/7 Expert Support
Our U.S.-based service team is available 24/7, so you can always speak to an experienced professional with knowledge of your fleet. WEX is consistently ranked in the Top 100 customer call centers. We're proud of that.
Products & Services
Reduce Costs with Premium GPS Tracking
WEX Telematics lets you monitor data second-by-second to spot performance outliers and inefficiencies that often go unseen. This helps government fleet managers get more out of their vehicles, eliminate waste, reduce unnecessary wear and tear, decrease response times, and improve public safety.
Put Your Data to Work
Use powerful analytics to look into your fleet's purchasing trends, spot anomalies, and identify cost-saving opportunities. Custom reports provide quick, actionable insights.
Fleet cards & fuel management
WEX fleet cards and fuel management tools help you save money and manage your local, state or federal fleet. Make smart decisions with cutting-edge analytics and reporting that work for you.