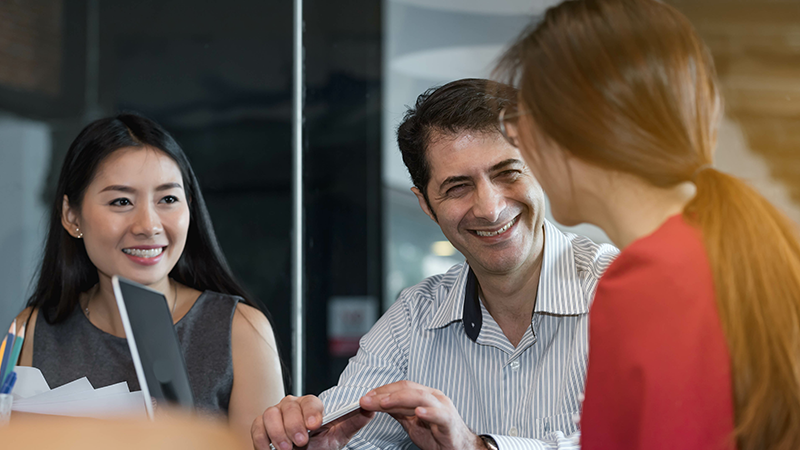 Many small business owners bring an efficiency mindset to business management, and if you are like them, you expect the companies you partner with to mirror that ethos in the customer experiences they provide. Whether it's managing your vehicles and their related expenses, managing your business finances, or just overall operational improvements - cutting costs, building efficiency, and driving revenue growth are your goals with the hope that any partner you work with will share your rigor and fiscal ideology. You may also be on the hunt for a vendor who can help guide you as you oversee the many different aspects of business operations. Here are four tactics to help you adapt your operations for greater efficiency and increased bottom line.
Tactic #1: Build efficiencies in how you manage your fuel spend
Do you find yourself managing an overwhelming amount of paperwork each day that keeps you tied to a desk? Partner with a company that can help you build fuel spend efficiencies.
As any small business owner knows, there's a lot of oversight and, frankly, paperwork when it comes to running a business. It was hard to imagine when you first laid out your business plan (if you made one) how much future you would be hunched over a desk for hours every day.
Some of you did create a business plan and mapped out the first five years including financial goals and expected costs. For some, a high level of planning and control isn't how you roll. In fact, according to Anthony K. Tjan's recent Harvard Business Review report: contrary to popular opinion, of entrepreneurs surveyed who'd successfully launched an IPO or conducted a business sale, 70% did not produce a business plan prior to launch. Maybe this rings true to you: you've built your business thoughtfully, adding new tools and processes little by little as your business has grown. As a result, you can be more nimble and pivot as needed because your processes are more adaptable and fluid, and that suits the way you operate. But that still doesn't account for all the paperwork and expense management that crowds out a lot of the things you love to do as a business owner.
A large chunk of that paperwork ties back to managing expenses. While fuel isn't the only expense you manage for your small business, and your vehicles are not the only operational aspect you oversee, they do account for a chunk of the change that goes out the door. In fact, according to Automotive Fleet, fuel represents 60% on average of a company's total fleet operating budget.
Here are five tips for fuel management that will help you keep your small business fuel finances in check:
Hear Preservation Timber Framing's story of building efficiencies in their fuel spend program.
Headquartered in Berwick, Maine, Preservation Timber Framing specializes in the structural repair of historic timber-framed structures such as steeples, barns, and homes throughout northern New England. As the stack of gas receipts on business operations manager Emilee Bolduc's desk grew taller, she knew there had to be a better way to track her company's fuel spend. In 2015, as Preservation Timber Framing's business was rapidly expanding, Bolduc felt it was time to look into fuel cards. WEX came up early in her search, and it was the ideal fit for her business; the partnership is now seven years strong. "It hit all the checkboxes of what we were looking for. From an accounting and bookkeeping standpoint, having it all in one place is huge because it's a pain when you have to reconcile credit card bills manually," Bolduc says.
Bolduc uses WEX's online management system to monitor spend at the card level, easily identifying any fueling anomalies. Each driver is designated their own card, and adding new cards or making changes to card assignments is quick and easy for Bolduc.
Using the WEX fuel card and the corresponding online services allows Preservation Timber Framing to do what it does best: restore historic timber structures. A delightful bonus: long gone are the days of Bolduc chasing down and sifting through stacks of drivers' gas receipts and manually reimbursing drivers for their fuel and related business expenses.
Tactic #2: Partner with a company that offers savings and value beyond just the fuel card
Do you wish there was a one-stop shop for most of your business needs? There are partners out there who offer a lot of tools for your business within one platform.
Owning and operating a small business is complex. Simply just managing your vehicles involves a great deal of time and energy: from managing maintenance and repairs, to fuel management, to ensuring you have the parts and tools you need to keep your vehicles on the road - - there's a lot of oversight required. Fuel cards can help, especially when you have a fuel card program that goes beyond just fuel. Partnering with a fuel card company, like WEX, you can expand your oversight and management beyond fuel in a one-stop-shopping experience. You'll have access to features for calculating the total cost of ownership and understanding where your expenses come from and how to maximize savings. Look for a partner that supports all areas of your business - - one who offers bundling and additional products that help you keep your business moving.
The WEX EDGE savings network offers exclusive discounts on the things that keep small businesses moving— things like fuel, tires, hotels, and wireless services, and there's more to EDGE than great discounts. You can access a dashboard to see how much you're saving on fuel, and how you can save even more. You can use your WEX account to pay for goods and services beyond fuel, and consolidate and control your business spending in a single, seamless application.
In a time when small businesses have to work even harder than before, a tool like WEX EDGE helps you get more for every dollar, and more for every mile.
Tactic #3: Nurture new ways of thinking and lean on partners to help you adapt
Do you wish you could make all the changes you know your business needs without any of the pain points? There are ways you can lean on others to help your business adapt and you'll then be able to readily embrace the changes that used to feel daunting.
You have so many things to think about for your business, using partner solutions can be seamless and easy and remove barriers that sometimes get in the way of necessary change. You're spending - - according to the US Small Business Administration, small businesses had an annual credit card spend of $753 billion last year - - but you know you could save more on expenses. You know you need to evolve, and you want to, but change is inarguably difficult. You're a business owner – you don't have time to investigate new tools, especially if many seem to be built for a larger enterprise than yours. You may feel resistant to implementing new technology because of the unique structure and behavior of your business. You prefer tools that adapt to your needs, and finding the perfect tool that fits your unique business is time-consuming and resource-sapping. Plus, the potential for change to interrupt, disrupt, or break your business keeps you from trying something new.
However, according to the Small Business Administration, while there are many small businesses that succeed: about 33% of small businesses fail in the first two years, around 50% go belly up after five years, and roughly 33% make it to 10 years or longer. You will be most likely to thrive as a small business if you are willing to lean on partners who can help you embrace the latest technological advances in business operations. The positive outcomes will be well worth your time and effort.
Consider partnering with an external resource like WEX to effectively and efficiently improve your small business operations.
Coil Tubing Technology chose WEX to help guide their business through operational changes and efficiency improvements. Coil Tubing Technology is an oil field equipment supplier based in Houston, Texas – they design, manufacture, sell, rent, and service proprietary tools used for producing crude oil and other hydrocarbons. With a diverse business model and worldwide customer base, it's imperative that the company tracks its company vehicles on their trips across the southern part of the United States. "I don't have a lot of time to monitor my vehicles, so the GPS tracking does that for me. We use it religiously, and drivers have quit misusing any of our vehicles since we started using it," shares Jeff Chestnut, Coil Tubing Technology CEO.
WEX will guide your business through the adoption of new tools and processes so you can evolve effectively and comfortably. By partnering with WEX, companies like Coil Tubing and yours will benefit from an extra set of hands to help you improve your operations, and a partner to lean on when making necessary but difficult changes to how you work.
Tactic #4: Map out a vision for your company's future, embrace change, and advance technologically
Do you want a vendor to assess and improve your technology without imposing too much strain on your small team? Partner with a company that can help you easily incorporate new technologies, build efficiencies, and improve your business's bottom line.
You can envision multiple futures and it's sometimes hard to tell which path will lead you to the best future for your small business. One way to ensure you're moving toward a better operational future is by engaging in the latest technological advancements and building operations that make use of them, and this is where a company like WEX can help.
Consider how WEX helped a southern California plumbing business better manage their operations with the use of new technology.
As the Owner and CEO of Right Time Rooter and Plumbing Services, Anthony Flowers decided his small business needed a fuel card in order to fully realize the company's growth potential. Because his company provides a wide array of services, including emergency plumbing, rooter services, and gas and sewer line installation on a 24/7 basis, Flowers needed a card that he and his 10 drivers could use just about anywhere, at any time.
After carefully examining the fuel card landscape, Flowers chose WEX because of its card acceptance — at 95% of U.S. fuel stations and 45,000 service locations — and cost-savings opportunities. Not only do Flowers and his drivers fill up at major stations, but also the smaller, locally owned fueling stations across sprawling Los Angeles County. "From the time we started using the cards, the convenience was real. As a plumbing company we're all over the place, and we can go just about anywhere to fill up. That's a real plus," shares Flowers.
Beyond the wide acceptance network, the accompanying reporting dramatically changed the way Flowers operated. Analyzing fuel consumption statistics helped him with budgeting. He now examines where his drivers fuel most often, and with that data, implemented a streamlined vehicle dispatching process. Partnering with WEX not only helped Flowers gain the widespread card acceptance he and his drivers needed, but it also enabled him to make smarter overall operational decisions.
Small businesses like yours likely don't need help with just one of these solutions, it's possible you'd be happy to have help with all of them. WEX is a one-stop shop for many of your small business needs.
WEX speaks the language of small business operators. WEX is here to help you unlock your full business potential with solutions to remove day-to-day obstacles. Whether you're looking to modernize your insight and reporting efforts, save on fuel costs, or take advantage of the latest GPS tracking technologies, WEX offers solutions to simplify the business of running a business. To learn more about WEX, a dynamic and nimble global organization,  please visit our About WEX page.
Learn more about how WEX helps small businesses improve operational efficiency here.
Resources:
Investopedia
Automotive Fleet
Fuel Force
US Small Business Administration
---
---